President Biden on Wednesday renewed his call for Congress to pass new gun control measures, including an "assault weapons" ban, during a White House event commemorating the first anniversary of the mass shooting at Robb Elementary School in Uvalde, Texas, which claimed the lives of 19 children and two adults.
After honoring the victims and lamenting the lives that were lost, Biden said American schools have become "killing fields" and that people are crying out for policymakers to "do something." 
"We did something afterward, but not nearly enough," Biden said. "We still need to ban, in my view, AR-15 firearms and assault weapons once again. You know, they've been used time and again in mass killings of innocent children and people." 
The president also called for Congress to outlaw "high-capacity magazines" and remarked that guns remain "the number-one killer of children in America." 
GUN RIGHTS GROUP SUES BIDEN DOJ OVER 'UNCONSTITUTIONAL' WAITING PERIOD FOR ADULTS UNDER 21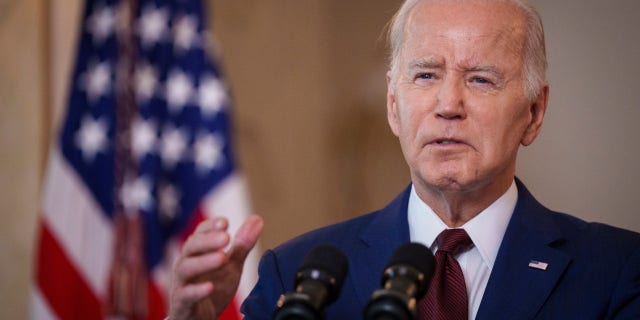 "We can't end this epidemic until Congress passes some commonsense gun safety laws that keep weapons of war off our streets and out of the hands of dangerous people, until states do the same thing," Biden said. 
The president insisted that most "responsible gun owners" support his gun control proposals, which include universal background checks, a nationwide red-flag law to preemptively take guns away from people believed to be dangerous, and laws requiring safe storage of firearms.
Biden also took on the gun industry, calling for an end to immunity from liability for gun manufacturers. He insisted they are "the only major corporate entity" that's immune to being sued for deaths caused by their product. 
"It's time to act," Biden said.
FEDERAL COURT DEALS BLOW TO ATF PISTOL BRACE RULE AHEAD OF GUN ACCESSORY REGISTRATION DEADLINE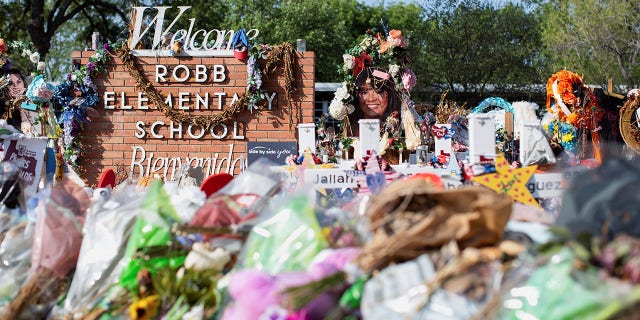 Vice President Kamala Harris also called for gun control on Wednesday. In a written statement, Harris noted that the advocacy of Uvalde families helped Biden usher bipartisan gun safety legislation through Congress and said "more must be done." 
"We urge leaders in Congress and in state legislatures to meet this heartbreaking moment not just with words, but with action," she said. 
Congress has not seriously considered new gun regulations since President Biden signed the Bipartisan Safer Communities Act last June. Spearheaded by Sens. John Cornyn, R-Texas, and Chris Murphy, D-Conn., the law was the most significant gun control legislation passed by Congress in nearly 30 years.
The law incentivizes states to pass red flag laws and expanded background checks for adults 18 to 21 years old. It also provided additional funding for youth mental health problems.
2 GUN CONTROL BILLS PASS IN PENNSYLVANIA HOUSE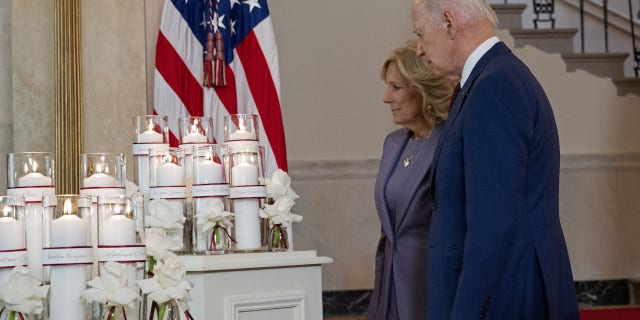 Gun rights groups have challenged the expanded background checks. Gun Owners of America filed a lawsuit earlier this month arguing that new requirements for the National Instant Criminal Background Check system to review juvenile records for adults aged 18-20 create a "de facto" waiting period that violates their Second Amendment rights. 
CLICK HERE TO GET THE FOX NEWS APP
GOP lawmakers have expressed opposition to further gun control measures. Rep. Lauren Boebert, R-Colo., recently introduced a bill to partially repeal the bipartisan gun safety law, including the red flag and expanded background checks provisions. Sen. Cynthia Lummis, R-Wyo., has separately introduced legislation that would prohibit states, localities or other organizations from using federal funds to maintain gun registries. 
Fox News' Caitlin McFall contributed to this report.
https://wakelet.com/wake/xr9Wm9qFkLWVij1xd2WjC
https://wakelet.com/wake/l55y39KVnH4l6YY9fPiyV
https://wakelet.com/wake/RC7o1jdvNAsScXx47pSxh